Age Minimum (with Adult): 10+
Leader of a Volunteer Group? Bring your team to Good Mojo!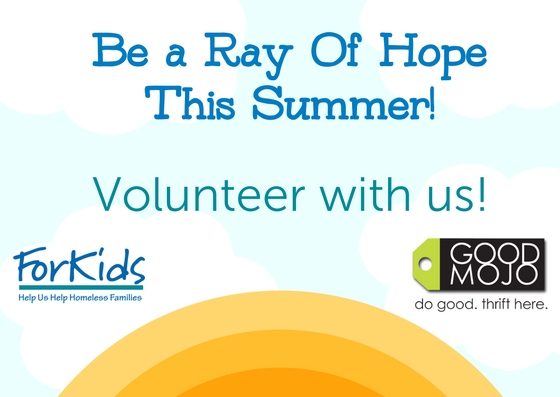 Happy Summer everyone! Our Good Mojo thrift store is about to have a grand reopening after some unexpected maintenance and repairs, we need help!
If you are the head of a volunteer group, we are desperate for help to tackle the bigger projects! We need you! If your team is looking to get out this Summer and do some good in the community, please don't hesitate to sign up! Groups of 5 of more can be scheduled for virtually anytime during store hours where there isn't already another group scheduled. At Good Mojo, we accept both adult volunteer groups as well as youth groups!
If you are interested in scheduling a volunteer opportunity with your group, please sign up for your requested date (only the head of the group/main contact needs to sign up here on Volunteer Hampton Roads)! Once your request is received, a member of the ForKids Volunteer Program will reach out to you for specifics - the times you'd like your group to come, the approximate number of volunteers, etc. We will get you everything you need to make your group's volunteer opportunity smooth and effortless! Our volunteer groups typically spend 2-4 hours at the Good Mojo Thrift store working on a project. The projects can vary day to day, but will usually involve helping sort through the incoming donations!
Why Bring Your Group To Volunteer At Good Mojo??
1) You're making a difference! The sales and donations from Good Mojo go to support the ForKids mission, which is to break the cycle of poverty and homelessness for families and children. Every volunteer that gives their time is helping a family in need get back on their feet and break the cycle!
2) It's fun! Volunteering at Good Mojo is a good time! Our volunteers enjoy their time in the store sorting new donations, tagging and hanging clothing, and just generally helping the store to function! Our staff at Good Mojo is friendly and inviting, and always happy to educate our volunteers on the mission of ForKids and WHY we do what we do! If you're looking for a volunteer opportunity for your group that is casual, fun, and impactful, this is it!
3) We'll reward your for your time! As a thank you, for every hour volunteer each member of your group will get 10% off Good Mojo merchandise (excluding furniture), up to 50% off! And on top of getting an incredible bargain, as a volunteer you're getting a first look at the donations that come in! For any members of your group that love thrifting, this volunteer opportunity is a dream come true!
Thank you for considering giving your time to help us in our mission! If you have any questions regarding setting up a group volunteer opportunity, please feel free to email us at volunteer@forkidsva.org.
Please wait...
Login or Register
In order to register for this opportunity you must login to an existing account or register to create a new account.
Signup with team
This link allows you to participate in this opportunity with a team. When you click on the link you will have the option to:
Choose an existing team you're already a member or captain of, or
Create a new team to sign up.
Signup Questions
Please respond to the following questions in order to signup for this opportunity:
Please wait...
E-mail