Arts & Culture, Senior Services
People with Disabilities, People with Health-based Concerns
Caring for People,Mentoring/Youth Development,Painting,Other
Age Minimum (with Adult): 14+
Arts/Music Program Host- Southside & Peninsula
Arts/Music Program Host


Unpaid- Volunteer Description
Do you enjoy social activities? Do you love art, music, moving around? Do you enjoy smiling, clapping, laughing, and bringing joy to others through your positive energy? THIS IS THE VOLUNTEER OPPORTUNITY for YOU!

The mission of Tidewater Arts Outreach is to share joy with older adults and enhance their wellness through the healing power of the arts. Volunteer Program Hosts help us by participating in our programs. They engage with our on-location artists, supporting them as appropriate. They engage with staff, by providing assistance to participants. They engage with participants by encouraging them to engage in the arts program. This might mean singing and dancing, or simply humming and listening, depending on the abilities and interests of the participant. There are videos on our website that explain how and why arts engagement is helpful to older adults, and suggestions on how to engage appropriately. The National Center for Creative Aging also has good videos, created for caregivers but appropriate/insightful for everyone, on arts engagement.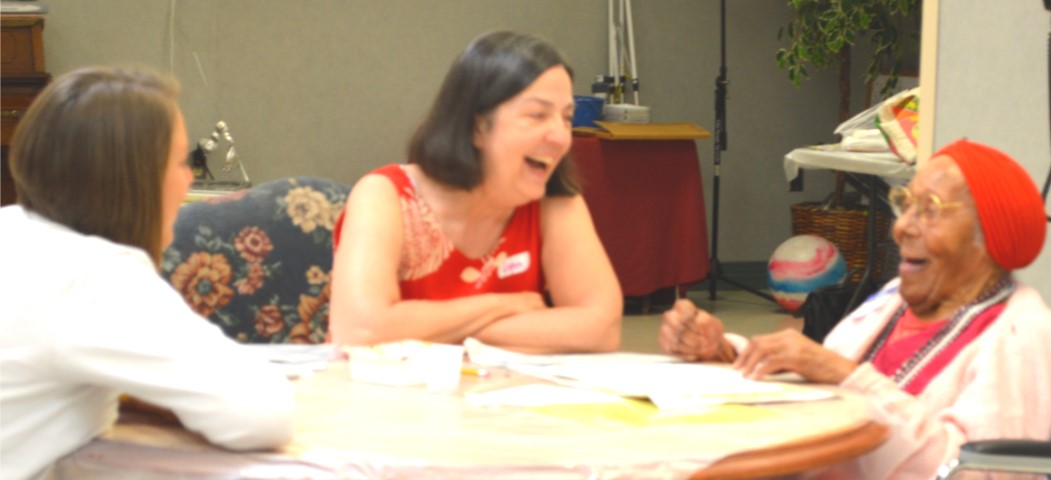 Hours and location:
Program Hosts assist at our music and arts programs in nursing homes, assisted living facilities, and other locations in Hampton Roads (includes the Peninsula and Southside.) Hosts are scheduled in 1-2 hour increments, during music or arts programs and activities. View Program Calendar here.

View the calendar to see when and where programs are. Programs change month-to-month. Program Hosts are noted in event details when confirmed. (Ex: "Program Host: First + Last Name") Our schedule is diverse and varied, there's never a dull moment with Tidewater Arts Outreach.

Skills Needed:
Outgoing, friendly personality, clear speaking voice, desire to serve older adults and people with special needs. Ability to ask general survey questions to participants and facility staff at end of program.
Organizational & time management skills
Excellent written & verbal communication
Ability to work independently
Training: New hosts will attend a program with an experienced mentor for training. Additional training and resources will be made available to volunteers for independent study. Feedback and development will be ongoing.
*Online volunteer training is coming.

Tools Needed: TAO Program Host Survey (+ pen), TAO nametag.

All applicants are subject to a background check.

Applicants will be accepted on an ongoing basis. Complete the Volunteer Application and submit to: Volunteers@TidewaterArtsOutreach.org .


Please wait...
Log in or Register
In order to register for this opportunity you must log in to an existing account or register to create a new account.
Signup with team
This link allows you to participate in this opportunity with a team. When you click on the link you will have the option to:
Choose an existing team you're already a member or captain of, or
Create a new team to sign up.
Signup Questions
Please respond to the following questions in order to signup for this opportunity:
Please wait...
E-mail